Music & Movement Management aimed to support and develop seventeen music and dance artists in their work over the course of 18 months. The ambition was to analyze individual needs, and offer concrete support, as well as tools, models, and resources, for the participants, to strengthen their professions in the longer term, while also elevating and creating lasting improvements and benefits for their operations. The project was carried out by Nordberg Movement 2022-2023.
Music & Movement Management was made possible with support by The Swedish Arts Council / Kulturrådet.
You can read the full report about the project HERE: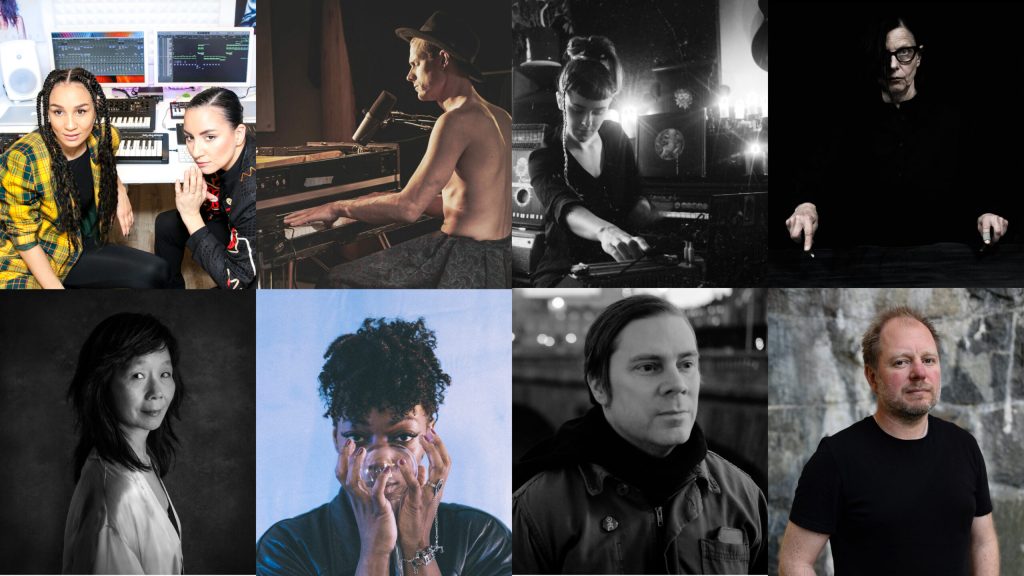 Ann Rosén
Ann Rosén (b. 1956) is a composer, musician and artist who began her career in the visual arts in the 1980s with interactive, intelligent, and intriguing works. Since the 1990s, the artistic focus has been on music and sound art and Rosén has more than one hundred works behind her. The works have been performed at the Swedish Royal Opera, Moderna Museet in Stockholm, and South Bank in London, among others.
Visit Ann Roséns website here.

Maria W Horn
The compositions of Maria W Horn (b. 1989) implement synthetic sounds, electroacoustics, acoustic instruments and also audiovisual components. In her unique work, that has got her performing extensively live all over Europe, acoustic instruments are often paired with digital synthesis techniques, in order to extend the instruments timbral capacities and transcend time and space, reality and dream.
Visit Maria W Horns website here.

Daniel Karlsson
Daniel Karlsson (b. 1973) is a contemporary jazz pianist and band leader that has received multiple rewards and prizes for his music. Swedish Grammys, Grand Prix du Disque, Manifest, Gyllene Skivan, SR-Jazzkatten, Jazzkannan and was honoured to be awarded "Jazz in Sweden artist". Karlsson is active both in Sweden and internationally through collaborations with well-known artists and tours with his own projects. He is founding member of the successfull Swedish jazz outlet Oddjob and releases new music at the speed of light with his own Daniel Karlsson Trio.
Visit Daniel Karlssons website here.

Jukka Rintamäki
Jukka Rintamäki composes music for contemporary dance, film and games. He has worked with prominent choreographers like Kenneth Kvarnström, Virpi Pahkinen and Zvi Gotheiner. Some of the game developers he has worked with include DICE, Avalanche Studios and Remedy Games. Most notably he composed the music for the highly successful games Battlefield 3 and 4 . Rintamäki also creates music for film.
Visit Jukka Rintamäkis website here.

Aurelia Dey
Aurelia Dey navigates cleverly and clearly through her artforms dance, music, acting and dialogue, and constantly finds new ways of expressing her art and strong messages. She works tirelessly for a pro-black and equality message in conjunction with her own afrophobic experience as Ghanaian and Swedish. Despite the pandemic, the recent years been productive with new music composed, a new live show set up and also a newly founded webseries/podcast named "Sunday Service".
VAZ
VAZ is a producer, songwriter & artist duo, consisting of sisters Jenny and Cecilia Vaz. Inspired by the harsh climate of the Nordic hemisphere and traditional Cape Verdean folk music; VAZ delivers a unique electronic sound, with influences from hip-hop, afrobeat and classical music in a genre coined by the duo as Afro Nordic Futurism.
Hailing from Sweden with roots from Cape Verde, the sisters have produced music and collaborated with a large number of Scandinavian artists, and made waves in 2017 with their critically acclaimed debut record "NECESSARY". The duo received Swedish Grammy nominations in the categories "Producer Of The Year" and "Best Alternative Pop" for the awards in 2018, and the following year they got the prestigious role as musical directors and house band of the classic Swedish TV show På Spåret.
VAZ are also the creators of the all female music platform and network Studio XX and the audio visual art installation Panorama. Both projects seek to create paths and opportunities for fellow producers and artists, challenging gender inequality and lack of representation in the music industry.
In 2020 VAZ launched their independent music agency Nordiska Musikbyrån specializing in bespoke music for visual art, media and design projects, working with clients such as Yves Saint Laurent, Balmain, IKEA, Adidas and more.
Lisa Ullén
Lisa Ullén is one of Sweden's most influential pianists in the free jazz and improvisational scene, as well as in contemporary music. She has gained international recognition as a distinctive and uncompromising musician and composer.
Born in Seoul, Ullén grew up in the northern part of Sweden. She has studied at the Royal College of Music in Stockholm and has conducted further studies in the USA and at the Royal Institute of Art, Stockholm.
In 2018, the Swedish Radio awarded Ullén the prestigious Jazz Composer of the Year. Her recordings have received several awards, including the 2019 Manifest Gala prize for her triple solo album "Piano Works".
Ullén has been active in the scene in Sweden for many years with a number of groups and projects, and she is currently working with the trio Space, Lost North, chamber sextet GAHLMM, Reading Music, and in a duo with Nina de Heney.
Jaded Jane
Axel Olsson, or Jaded Jane as he calls himself as an artist, is a singer, musician, and songwriter who brings great depth and atmospheric calm to his unique pop mix. Axel's way of writing music enables people to recognize themselves in thought patterns & emotions and hopefully feel less alone.
The artist's name, Jaded Jane, holds an androgynous quality, which is also part of the message, where the feminine and masculine live in harmony. Even how Axel dresses in clothes on the inside out shows we are all the same on the inside, a message that constantly feels important and relevant. With his music, Axel seeks to build bridges between different cultures & nations, to promote humanism and internationalism, a planet where we all can live in peace with our fellows, with nature and all the other animals.
M&M MANAGEMENT - November 8, 2023 - Newcomers, Robin Jonsson, Dansens Hus c/o Årsta Teater, Stockholm, Sweden - 19:00
+
Newcomers, Robin Jonsson, Dansens Hus c/o Årsta Teater, Stockholm, Sweden
November 8, 2023
19:00
Sindri Runudde
Sindri Runudde is a dancer and choreographer based in Sweden. Their work is characterized by a multi-sensorial approach to the body as a living archive. Sindri invites artists and creators to their process to examine and problematize how we experience the world around us through our senses and our perception. Sindris work spans over several fields and includes sound art, visual art and performance. They are educated in contemporary circus and dance, and have worked with companies and institutions as well as toured their own works both in Sweden and internationally.
Maria Naidu
Maria Naidu wants dance to provoke, stimulate and inform rather than just entertain. She explores the social, emotional and spiritual dimensions that dance generates. The starting point is the power of dance to communicate directly, across all kinds of boundaries and its ability to deeply touch people. Marias artistry rests on a solid craft, deeply rooted in art of dance, which in combination with curiosity, interest in development and renewal has made her a multifaceted artist.
Visit Maria Naidus website here.
Joanna Holewa Chrona
Joanna Holewa Chrona is a dancer, choreographer, and dj based in Sweden and South Africa. Her dance- background is within streetdance from the afro-diaspora as well as from West- and South-African cultural dances. She is active within different fields of art such as performing, teaching, choreographing, organising battles and competitions, creating music-videos, art-films, commercials and as DJ.
Visit Joanna Holewa Chronas website here.
BamBam Frost
BamBam Frost is a dancer and choreographer based in Stockholm. During her long and varied career as a performer, she has moved trough entertainment context as well as the contemporary dance scene. Since 2018 BamBam primarily initiates, choreographs, and performs her work, often in close collaborations with other artists. Right now she insists on pleasure as compass and fiction as tool in the urge to create choreography that encourages you to reevaluate the potential of the the body, the room and the group. Always exploring different movement practices and ways of being together.
Read more about BamBam Frost here.
Johanssons Pelargoner och Dans
Johanssons Pelargoner och Dans is a performing arts group and a production platform with over 10 years experience of performing arts and dance pedagogical work with a special focus on children and young people. They create performances where the audience is involved and where the focus lies on the physical experience of those who participate. Artistic directors for Johansson's Pelargoner and dance are Annica Styrke and Karin Wiklund – choreographers, dancers and dance educators trained at the School of Dance and School of Circus.
Robin Jonsson
Robin Jonsson is a Stockholm-based choreographer. His work focuses on how technology impacts interpersonal relationships. Key issues are how technology transforms the individual, the interpersonal, and our view of community and each other.
In his dance works, Robin aims to mirror larger phenomena where genuine, meaningful digital presence and coexistence play a larger and more important role in our lives and societies. He achieves this by building on advanced digital technology's capacities, creating authentically embodied human encounters – full of presence – in a context that is interesting from a choreographic point of view. Robin Johnsson has primarily worked with social robots and Virtual Reality.
Anna Öberg
Öberg is a dancer and choreographer who uses her background in Swedish folk dance as the starting point for both her artistic and research work. In 2015 she was awarded an MFA degree in Choreography at Stockholm University of Arts (Uniarts), as the first traditional dancer in its history.
Anna's work comprises her own artistic projects as well as commissions from different venues and institutions in Sweden and abroad. Her deep knowledge of tradition in combination with her innovative approach has drawn a lot of attention to her choreographic work, which is characterized by the creation of multilayered performances with a strong physical approach, often using the interaction between music and movement as a central core. Even if she nowadays often works with ensembles, she has grounded her practice in a number of solo performances in which she has explored craft and concepts embedded in the genre of folk dance, striving towards the shift from what those areas depict and represent to the effects and experiences they produce. Her work is often described as innovative and with subtlety and perceptual acuity.
Commissioned works in recent years include e.g Musik i Syd, Dalateatern, Stadsteatern, Scenkonst Sörmland, Riksteatern, Dancenet Sweden. Her stage works have been presented at e.g. Dansens Hus, MDT, Norrlandsoperan, Moderna museet, Dansstationen in Sweden, Dansehallerne in Denmark, Riksscenen Norway and Brut Imagetanz Vienna. During 2019 she created SOLITUDE as Dancenet Sweden's new co-production.
Anna has recurring commissions as a dramaturg, moderator, and pedagogue in Sweden and abroad. During the years, she has also initiated and curated platforms for stage art, pedagogical issues and research, latest FLOCK, a new festival for scenic art in Falun, Sweden, in collaboration with Dalateatern and Folkmusikens Hus.
Visit Anna Öbergs website
Mari Carrasco
Mari Carrasco is a Stockholm-based dancer and choreographer from Sweden/Chile. Carrasco graduated from Balettakademien Stockholm in 2008 and studied at Stockholm University of the Arts and The International Visa Program – Dance New Amsterdam in New York. Carrasco had her breakthrough as a choreographer with her internationally acclaimed piece BARTOLOMEO in 2013. BARTOLOMEO performed over a hundred times in Sweden, and in 2014 Carrasco produced a successful world tour with the same piece, performing at festivals in New York, Tokyo, Madrid, Amman, Ramallah, Belfast, and Roskilde. In 2014, Carrasco also choreographed the celebrated stage and dance performance GIRLS WILL MAKE YOU BLUSH in collaboration with Unga Klara and Västmanlands Teater. Mari Carrasco has created commission work internationally and in Sweden for SKÅNES DANSTEATER, REGION TEATER VÄST, STHLM 59 NORTH/The Royal Swedish Ballet, NORRDANS, RIKSTEATERN, DANSSTATIONEN, UNGA KLARA, HOLSTEBRO DANSEKOMPAGNI, and VERVE LEEDS UK. Since 2016 Mari Carrasco has collaborated with world-renowned composer Mikael Karlsson, who has created the music for BLACK FOREST, PAPER PLANE, INTERNALLY BLACK, REMIND ME IM NOT DEAD, and THE HEART.
Visit Mari Carrascos website here
OR/ELLER
Madeleine Lindh and Anja Arnquist have been active in the field of dance and choreography since the early 2000s. In 2018 they started the artist duo OR/ELLER which quickly gained the opportunity to create works for national and international institutions and venues. OR/ELLER's dance art is characterized by highly visually dramatic pieces, using dance as an expressive driving force. They play with the idea of their pieces as surfaces of contact, where they invite dancers and audiences alike, as well as children and adults, to dwell in fiction, playing with both a complex and straightforward tonality, where both seriousness and humor are allowed to take place.
Visit OR/ELLERs website here