POLUCH/HARKINS/HOSHIMI-CAINES
Zoë Poluch's artistic practice puts into motion different mediums and takes shape in different rooms. Her love-hate relationship with the "contemporary dance" scene is based on a long term and practice-based interest in the politics and poetics of moving and sensing. As she teaches, dances, talks, writes and thinks, she does it with a precise gymnastics of the senses. She looks forward to the far future, perhaps 2070, when she will inaugurate a dance company for dancing people over 70 years old and tour on a solar airplane to all the big stages of the world. In the past, she studied, trained and worked in Canada and Belgium and could be found dancing and performing with established and emerging choreographers, kind of all over. More recently, this has included extensive commitments to collaborations with Hanako Hoshimi-Caines and Elisa Harkins, Kim Coleman and Cara Tolmie, performing and making The Knife's Shaking the Habitual concert/show, her own solo Example, On Air with Nadja Hjorton, dancing in Splendour by Stina Nyberg and regurgitating history together with the feminist choreographic project Samlingen. Zoë is currently Assistant Professor and Head of the Bachelor Programme in Dance Performance at Stockholm University of the Arts.
Elisa Harkins is a Native American (Cherokee/Muscogee), and Japanese artist and composer originally hailing from Miami, Oklahoma. Harkins received a BA from Columbia College Chicago and an MFA from the California Institute of the Arts. She has since continued her education at the Skowhegan School of Painting and Sculpture. Her work is concerned with translation, language preservation, and Indigenous musicology. Harkins uses the Cherokee and Mvskoke languages, electronic music, sculpture, and the body as her tools. She has exhibited her work at The Broad Museum, Crystal Bridges Museum of American Art, documenta 14, The Hammer Museum, MCA Chicago, MOCA North Miami, and Vancouver Art Gallery. Harkins is an enrolled member of the Muscogee (Creek) tribe.
Hanako Hoshimi-Caines is a mother, dancer, performance-maker, writer, questioner, enthusiast and organizer born and based in Tiohtià:ke/Montreal. Her work plays with the pleasure, the haunt of the familiar and the process of being and becoming family. She is interested in performance as something that is both mystical and a skill to be learned. Hanako has performed and created alongside many wonderful artists in Montreal and abroad. Amongst them Winnie Ho, Nadège Grebmeier-Forget, Katya Montaignac, Véronique Hudon, Emma-Kate Guimond, Maria Kefirova, Anne Caines, Stephen Quinlan, Stephen Thompson and Andrew Tay, Lhasa de Sela, Tanya Lukin-Linklater, Clara Furey, Socalled, Ivanie Aubin-Malo, Louise-Michel Jackson, Jacob Wren, Katie Ward, Adam Kinner, Frédérick Gravel, José Navas and with the Cullberg Ballet (Stockholm). Her latest dance, Radio III (2019), is co-authored with Elisa Harkins (OK) and Zoë Poluch (SE), and was presented in Montreal, Vancouver and Sweden. Deeply invested in elite-resistant performance spaces in Canada and Europe, Hanako has organized discussion groups, shared studio frameworks, and fundraisers for RECAA (community organization countering elder abuse in ethno-cultural communities). She co-curated Focus on Dance Research conference (Concordia University) and Quantum Fur (Studio 303). Hanako recently graduated with an honors degree in Western Philosophy from Concordia University. She is currently guest co-curator of the Centre de Création O Vertigo.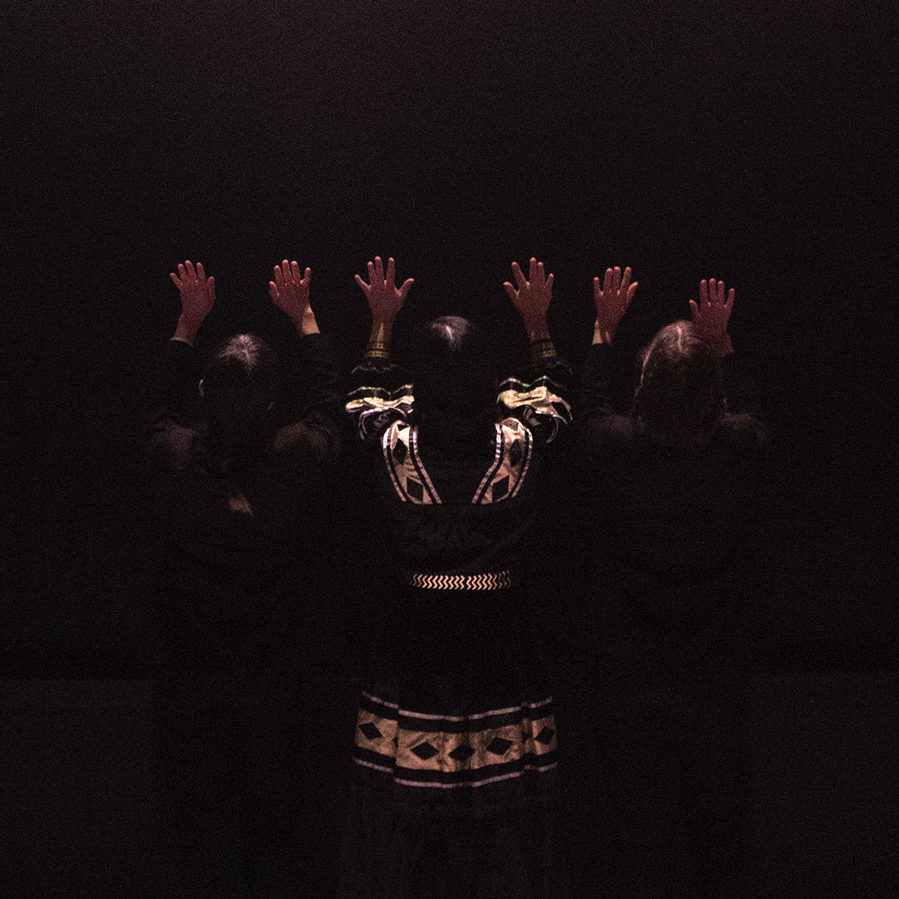 RADIO III / ᎦᏬᏂᏍᎩ ᏦᎢ is an indigenous futuristic concert, a beautiful and uncomfortable dance performance and a perverse triangle of shifting power that seeks to be unfaithful to both minimalism and postmodern dance's claims to so-called "neutrality". As we live, layer and situate form in our bodies we hurtle through past, present and possible futures.
We invite you into a supportive co-existence, separate but aligned, an anthem for xenophilia, a complicit dream, a consensual prophecy.
Exhilarated by a common interest in minimalism in art and music, we are asking how we can work on the performativity and spatial principles of minimalism while being unfaithful to its recognizable aesthetic and its claim to so-called 'neutrality'. We are on the lookout for a dance that haunts the recognizable toolbox of abstraction, form, repetition and pattern by making visible what should not be seen. We feel compelled to explore a dance that is vested in expression but not (only) in self-expression. How can we diffuse and displace the expressive and physical dynamics of the dance and music material? Where can we go after the minimalist turn of Yvonne Rainer's dramatic No Manifesto's negation of spectacle, virtuosity, image and style other than to Mette Ingvartsen's subsequent Yes Manifesto's reformulation of virtuosity? What could be a third? When in a bind, caught in the antagonism of the binary, add a third. We are interested in exploring the poetics and the politics of a third: not to locate and to position this third (do we really need more than left, center and right, beginning, middle and end?!) but to generate a methodology that works on positioning as a verb which entails noticing changing relations without staking ownership on a particular place (conceptual or physical).
We are using the notion of the background (as in background/foreground) as a way to investigate the relations through which things are made visible and invisible. We are looking into the image and function of wallpaper and the (invisibilized) backup singer to help us make dance scores, influence the dynamics of our dancing and music compositions, unison movements and the imprinting of a room with multiple and simultaneous patterns.
The work opened at MAI in Montréal June 3, 2019.
With and by: Zoë Poluch, Hanako Hoshimi-Caines and Elisa Harkins.
Light Design: Paul Chambers.
Costumes: Jade Tong Cuong.
International relations, production: Nordberg Movement
Residencies, co-production: MAI, MDT, Dance Victoria. Funders: Canada Council for the arts, Swedish Arts Council, Swedish Arts Grants Committee, Tulsa Artist Fellowship, Agora de la danse, The Stable. Discussion partners: Ivanie Aubin-Malo, James Goddard, Maria Kefirova, Stina Nyberg, Katie Ward, k.g. Guttman, Kelly Keenan and Magnus Nordberg.
Photo: Kinga Michalska Performance photos: Mathieu Verreault